Two New Neighbourhoods For Hobsonville Point
Sep 29 2015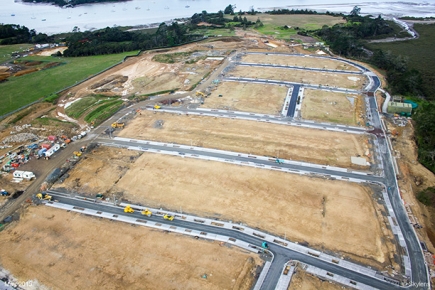 Hobsonville Point will soon boast two new neighbourhoods, with progress on both Catalina and Sunderland B precincts.
Catalina (pictured), which is located between Hobsonville Point Primary School and Bomb Point, and Sunderland B, which stretches from Mill House to the Sunderland Lounge, will together introduce more than 700 new homes to the development and add much-needed supply to the Auckland housing market.
The Catalina precinct will house 544 new homes, with civil infrastructure works on stage one already completed by developer AVJennings.
Together with its builder partners (Universal Homes, Jalcon Homes, G.J. Gardner Homes, Classic Builders, Fletcher Living and Platinum Homes), AVJennings is now working hard to deliver a range of housing sizes and styles at Catalina, including an estimated 123 affordable homes. Catalina precinct's homes are expected to be completed in 2018.
AVJennings Project Director, Adriaan Vlok, says Hobsonville Point is one of the largest projects the developer has on its books across both New Zealand and Australia.
"Hobsonville Point is setting a benchmark for the industry and we're delighted to be part of it. We're committed to maintaining the strict quality standards for which we're known while at the same time providing home buyers with a range of sizes, designs and prices to choose from."
Meanwhile, Classic Builders has been appointed the developer of the Sunderland B precinct, which includes Waitemata Harbour waterfront property and links Sunderland A (under development by Willis Bond) to Sunderland C.
Classic Builders has been part of Hobsonville Point for three years, having built houses in a number of other precincts. Co-director, Peter Cooney, says the firm is excited about the opportunity Sunderland B represents.
"We know and love this community, and are delighted not only to be able to contribute to the supply of new homes but to also now plan and create a whole portion of this very special neighbourhood."
Once developed, Sunderland B will offer 180 new homes ranging from standalone dwellings to terraces, and including more than 40 affordable homes. Infrastructure and site development will start immediately, and construction on the homes themselves should start by the beginning of next year. The houses are expected to be on the market from early 2016.
Since the development of Hobsonville Point commenced in 2008, more than 800 new homes have been completed or are under construction.
HOMES
FROM $969,000
Standalone three bedroom, two bathroom family home close to reserve and schools.
READ ON
APARTMENTS
FROM $635,000
Bernoulli Gardens by Ockham Residential. Two to three bedroom apartments set in a lush garden environment unique to Hobsonville Point.
READ ON
TERRACES
FROM $869,000
Terraced living at its best. Three bedrooms, two bathrooms, open plan living. Innovative architecture and design.
READ ON