Te Kanohi O Te Manu
Dec 6 2017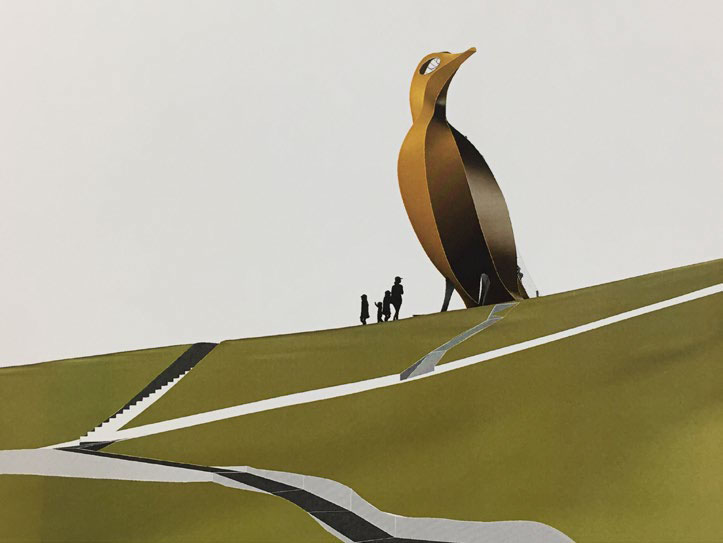 Nestled at the head of Harrier Point and standing proudly between the playground and fitness equipment, with its head turned gazing out to sea, a new member of Hobsonville Point will take residence.
Te Kanohi O Te Manu – The Eye of the Bird is a giant interactive play sculpture of a Pied Shag that Hobsonville Point residents and visitors walking around the coastal walkway will come across upon their journey.
The impressive artwork will aim to connect its visitors to the land and the sea, and to encourage an awareness of the wildlife who call the coastal area their habitat and home.
Standing almost 10 metres high the steel structure features a viewing platform within its head and a slide within its body that exits across its tail.This native bird will offer an outlook equal to that of a three storey building giving the public a "birds eye view" of their journey along the coastal walkway, seeing where they came from and where they are about to go.
The sculpture, by artist Philipp Meier, cleverly captures a vision of Hobsonville Point from its past to the present, celebrating its heritage in the form of a bird species native to the surrounding wetlands and estuary as it stands tall, offering a silent yet majestic nod to the giant metal birds that once flew the skies.
Te Kanohi O Te Manu will be installed in its new home next year. 
HOMES
FROM $969,000
Standalone three bedroom, two bathroom family home close to reserve and schools.
READ ON
APARTMENTS
FROM $635,000
Bernoulli Gardens by Ockham Residential. Two to three bedroom apartments set in a lush garden environment unique to Hobsonville Point.
READ ON
TERRACES
FROM $869,000
Terraced living at its best. Three bedrooms, two bathrooms, open plan living. Innovative architecture and design.
READ ON