Strong Interest in Sunderland Precinct
Mar 22 2015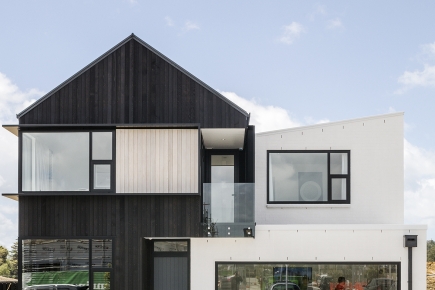 Just four months since it opened, the Sunderland at Hobsonville Point showhome is proving popular with visitors.
Unlike existing precinct development at Hobsonville Point, which has been completed by several approved building partners, the entire Sunderland precinct at Hobsonville Point is being developed by Willis Bond and Co. Sunderland aims to set a new standard of living for Auckland, and with more than 190 new homes (consisting of Park Terraces, Sunderland Townhouses and Freestanding Homes) as well as 10 fully-refurbished former Air Force homes, there is an option for everyone.
Project Director, Wayne Silver, says feedback from visitors to the showhome, which opened in late November last year, has been phenomenal.
"Visitors have universally commented on the outstanding quality of the showhome and the exceptional design by Studio Pacific Architecture. The first release of new homes at Sunderland has been incredibly well received," he says.
"In fact, it is selling so fast that we had to bring forward our second release, which is now available. This new release features 22 Freestanding Homes and six Sunderland Townhouses, and is selling quickly with four homes already under contract. We encourage you to come and see us soon if you want to secure one of these high quality, architecturally-designed new homes available at Sunderland."
Foundations for the first homes have now been poured and walls are already going up, with the first residents expected to be able to move into their new homes in September.
The Sunderland showhome is open every day from 10am to 4pm. It is located on Hastings Street, across from Catalina Café. For more information, please visit www.sunderlandlife.co.nz.
HOMES
FROM $969,000
Standalone three bedroom, two bathroom family home close to reserve and schools.
READ ON
APARTMENTS
FROM $635,000
Bernoulli Gardens by Ockham Residential. Two to three bedroom apartments set in a lush garden environment unique to Hobsonville Point.
READ ON
TERRACES
FROM $869,000
Terraced living at its best. Three bedrooms, two bathrooms, open plan living. Innovative architecture and design.
READ ON