First Heritage Home Released for Sale
Jun 13 2015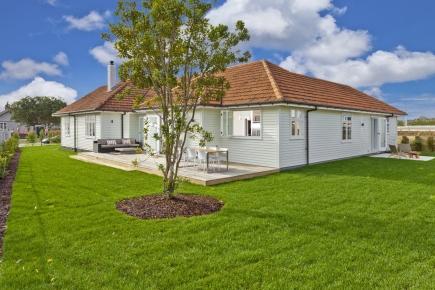 The first of Hobsonville Point's renovated heritage homes has just been released for sale. Developer Willis Bond has done an outstanding job of extending and modernising the home at 2 Sunderland Avenue, while remaining sympathetic to its 1930s architectural style. Number 2 is the first of 10 heritage homes on Sunderland Avenue to be released to the market this year. It sits on a large, 1160m2 north-west facing site. The once modest house has been transformed into a four bedroom, 2.5 bathroom family home with three living areas and a double garage. Take a look at the Bayleys link here to find when the home is open to view.
The Sunderland Ave bungalows were built in the late 1930s to house military families living on the RNZAF base. They are designed in the English Domestic Revival style. Willis Bond has taken great care to preserve their character, while bringing them up to 2015 standards of comfort and functionality. The homes are being restored to the recommendations of heritage architects, Salmond Reed. Architectural features such as terracotta roof tiles, wooden windows and doors, plaster ceiling panels with timber battens, and brass hardware have been retained or matched.
Hobsonville Point's heritage buildings lend character, variety and sense of continuity to our community. Hobsonville Land Company is very excited to see the first of our heritage homes being offered to new owners and we would like to thank Willis Bond for their commitment to safeguarding the future of the Sunderland Ave bungalows.
Number 2 Sunderland Avenue will go to auction on 28 June 2015. Please contact Bayleys for viewing times.
HOMES
FROM $969,000
Standalone three bedroom, two bathroom family home close to reserve and schools.
READ ON
APARTMENTS
FROM $635,000
Bernoulli Gardens by Ockham Residential. Two to three bedroom apartments set in a lush garden environment unique to Hobsonville Point.
READ ON
TERRACES
FROM $869,000
Terraced living at its best. Three bedrooms, two bathrooms, open plan living. Innovative architecture and design.
READ ON