Classic Builders brings Hudson to the market
Mar 16 2016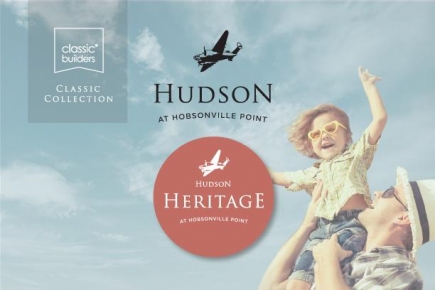 Heritage: First Release
Classic Builders is pleased to announce the launch of Hudson, a very special place at Hobsonville Point. Three distinctive new neighbourhoods, Heritage, Marine and Gardens will offer a range of impressive homes. Also released is the Classic Collection, an exciting new range of architecturally-designed plans.
Once developed, The Classic Collection will offer 200 new house and land packages range from standalone dwellings to apartments and terraced homes, and including more than 40 affordable homes.
Classic Builders has tapped into the best architects, urban designers and landscaping architects. While continuing to work alongside New Zealand's leading architects Isthmus, Classic Builders has also teamed up with architects Stevens Lawson, Bossley and Sills van Bohemen to deliver this exceptional project. Each architect is committed to design excellence, place-making and sustainable practices in the creation of these three vibrant new communities that are simple in their expression yet rich in authenticity, value, history and culture.
As co-directors and Kiwi-born owners of Classic Builders, directors Peter Cooney and Matthew Lagerberg put everything into their developments, with Hudson and The Classic Collection being no exception.
Enquire today at classicbuilders.co.nz or visit our show home at 11 Liquidambar Drive, Hobsonville Point, just behind the Catalina Café.
HOMES
FROM $969,000
Standalone three bedroom, two bathroom family home close to reserve and schools.
READ ON
APARTMENTS
FROM $635,000
Bernoulli Gardens by Ockham Residential. Two to three bedroom apartments set in a lush garden environment unique to Hobsonville Point.
READ ON
TERRACES
FROM $869,000
Terraced living at its best. Three bedrooms, two bathrooms, open plan living. Innovative architecture and design.
READ ON