Isthmus Group Wins 'World Landscape of the Year'
Nov 25 2016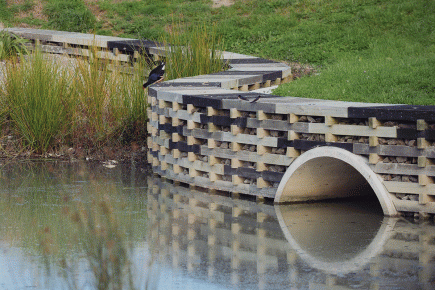 Congratulations to our friends at Isthmus Group for winning 'World Landscape of the Year 2016' at the World Architecture Festival. Isthmus has been heavily involved in the masterplanning, landscape and urban design at Hobsonville Point for a decade. 
Isthmus won the world's top landscape design award for their work on Kopupaka Reserve, near Westgate town centre in Massey North. The winning project combines a stormwater reserve with an urban park, playground and skate park. 
The judges praised the project as "a successful translation of Maori traditions that succeeded in being both poetic and imaginative in its creation of a landscape that captures the soul and nature of the area. Inspired by woven baskets for catching eel, Isthmus has developed an innovative river-wall system of interlocking timbers. Simple yet sophisticated engineering allows the baskets to retain silt and create habitats which will shift and change over time."
Isthmus Group beat finalists from 58 countries to take out the top prize. Nice to know we have the best in the world on the job at Hobsonville Point! 
An Isthmus-designed stormwater swale at Hobsonville Point.
A bridge on Te Ara Manawa, Hobsonville Point's 4km coastal walkway. The walkway has been designed by Isthmus Group and Nelson Byrd Woltz of New York.
HOMES
FROM $969,000
Standalone three bedroom, two bathroom family home close to reserve and schools.
READ ON
APARTMENTS
FROM $635,000
Bernoulli Gardens by Ockham Residential. Two to three bedroom apartments set in a lush garden environment unique to Hobsonville Point.
READ ON
TERRACES
FROM $869,000
Terraced living at its best. Three bedrooms, two bathrooms, open plan living. Innovative architecture and design.
READ ON