Come Fly With Me 14 Feb 2016
Feb 4 2016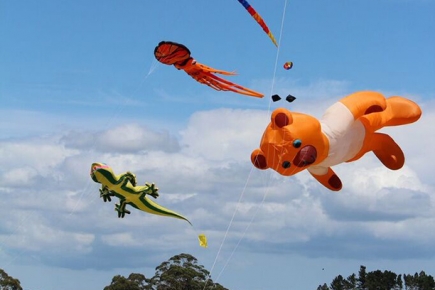 Hobsonville Point's stunning Te Onekiritea Point (Bomb Point) is the backdrop to this year's Come Fly With Me festival on Sunday, February 14, now in its third successful year.
Join the Hobsonville Point community in a celebration of the wind, sun and sky with delicious food, games for kids of all ages, crafting activities and kites of all sizes!
This year will see more interactive activities. The Open Fort is working with the Hobsonville Land Company to create a selection of games suitable for adults and children especially for Come Fly With Me.
The Open Fort has creative activities for kids to colour in, put together and send off into the sky. There will also be Peter Clark's spectacular 3D kites as well as other local kite fliers showing their most fanciful kites. Some of Auckland's best aviation groups have been invited to display their crafts and local community groups will have displays and information. A selection of delicious food trucks with a dedicated picnic area where you can relax with snacks and watch the festivities. The day will also acknowledge Valentine's Day with a Wings of Cupid Valentine's game. Keep an eye on the Hobsonville Point Facebook pageand this website for more information.
HOMES
FROM $969,000
Standalone three bedroom, two bathroom family home close to reserve and schools.
READ ON
APARTMENTS
FROM $635,000
Bernoulli Gardens by Ockham Residential. Two to three bedroom apartments set in a lush garden environment unique to Hobsonville Point.
READ ON
TERRACES
FROM $869,000
Terraced living at its best. Three bedrooms, two bathrooms, open plan living. Innovative architecture and design.
READ ON